VOC Filter
VOC and Chlorine Taste and Odor Reduction
Features and Benefits
Proud to be Manufactured in USA
Our backbone is built upon using certified ingredients like activated and acid washed coconut shell carbon, fibers, elastomers and more
.5 micron rating
Low pressure drop combined with exceptionally high dirt holding capacity
Backed by third party independent test reports; reducing costs to support your system certification claims
California Prop 65 Compliant
Lead Free Certified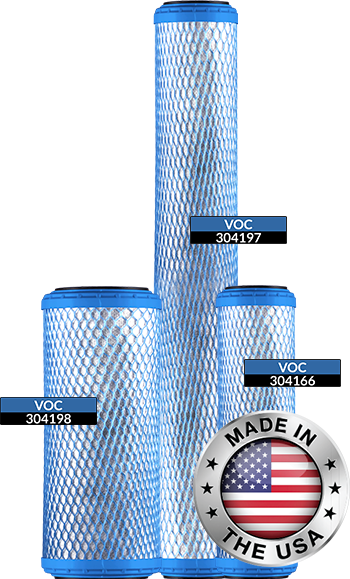 Comprehensive in house continuous quality monitoring and testing
NSF/ANSI Component Certified
Performance claims tested and verified by independent ANSI accredited laboratories
Repeated cert verification testing for Prop 65 compliance
Product Line
| | | | | | |
| --- | --- | --- | --- | --- | --- |
| Model Number | Part Number | Dimensions inch | Micron Nominal | Capacity* | Pressure Drop* |
| HFVOC-10 | 304166 | 2.5 x 10 | .5 Mic | 20,000 at 0.1 gpm | 3.5 psid |
| HFVOC-20 | 304197 | 2.5 x 20 | .5 Mic | 45,000 at 2 gpm | 4.0 psid |
| HFVOC-10-4 | 304198 | 4.5 x 10 | .5 Mic | 80,000 at 3 gpm | 7.0 psid |
| HFVOC-20-4 | 304199 | 4.5 x 20 | .5 Mic | 160,000 at 7 gpm | 16.0 psid |
*Claims of capacity and performance are based upon independent laboratory test results and/or manufacturers internal test results.
Performance and product specifications are based upon the filter being integrated with a complete system. This system includes filter, housing, fittings, tubing and connected to a regulated pressurized water source. Filter requires 5 minutes flush. Refer to system installation and operation manual for proper installation and filter replacement process. It is essential to follow operational, maintenance, and filter replacement procedures to ensure proper filter performance.
Cartridge capacity may vary according to flow rate, inlet line pressure and local water conditions, which may require more frequent cartridge replacement. Do not use with water that is microbiologically unsafe or of unknown quality without adequate disinfection before or after the system. The contaminants or substances reduced by this filter are not necessarily in your water.
Operating Pressure: 20 psig (1.38 bar) – 125 psig (8.62 bar)
Operating Temperature: 40º F (4º C) – 125º F (52º C)
Fit standard 5", 10" and 20" drop in housing



Warranty
Hydro-Flow warrants that the products delivered will be free from defects in workmanship or materials. Further, the warranty provided herein applies, only when used within the products specifications and service life, which is one year from the date of installation or two years from the date of manufacture whichever occurs first, (at which time the filter must be removed and replaced with a new one), beyond which Hydro-Flow is absolved of any and all liability for any use of the product. In the event of a defect or non-conformity, buyer shall promptly notify Hydro-Flow in writing, supplying proof-of-purchase dates, installation dates, and will protect and retain the products for investigation, or Hydro-Flow is absolved of any and all liability from any use of the product. There are no other warranties, either of merchantability or fitness, either expressed or implied.