ProGuard SL Filter
SL FOR PREVENTION OF SCALE AND LIME BUILDUP AND BAD TASTE AND ODOR
The ProGuard SL cartridge is designed to prevent Lime and Scale build up in beverage equipment like Coffee Urns. The SL cartridge is the perfect solution for potable water treatment applications. This product contains polyphosphate beads that dissolves at a controlled concentration to prevent scale formation and corrosion. Typically, a concentration of Food Grade Phosphate dissolves at threshold levels of 0.5-5.0ppm polyphosphate will inhibit scale and corrosion. Product lifetime is approximately 6 months or longer (Depending on Use). The active ingredients has been certified under NSF/ANSI Standard 42: Drinking Water Treatment Units-Aesthetic Effects and NSF/ANSI Standard 60: Drinking Water Treatment Chemicals-Health Effects, for use in potable water systems at concentrations up to 14 mg/L (MUL) PO4.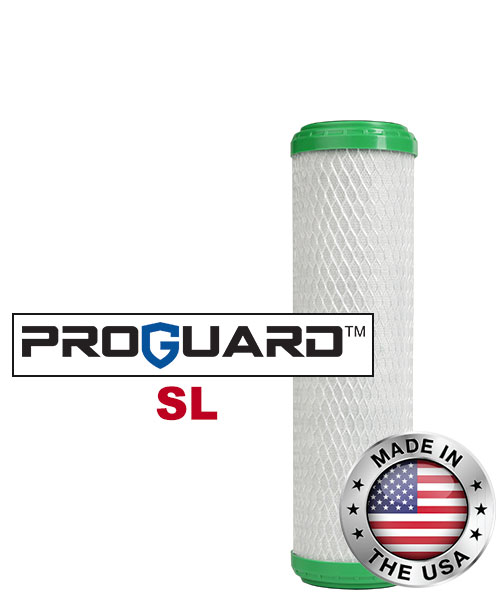 Comprehensive in house continuous quality monitoring and testing
Media is NSF/ANSI Component Certified
Forms a protective coating on all metal surfaces, safeguarding against acidity/alkalinity, hardness, chloride and other factors which effect the corrosion of water equipment and pipes
Repeated cert verification testing for Prop 65 compliance
Operating Pressure: 20 psig (1.38 bar) – 125 psig (8.62 bar)
Operating Temperature: 40º F (4º C) – 125º F (52º C)
Fit standard 10" drop in housing



Warranty
Hydro-Flow warrants that the products delivered will be free from defects in workmanship or materials. Further, the warranty provided
herein applies, only when used within the products specifications and service life, which is one year from the date of installation or two
years from the date of manufacture whichever occurs first, (at which time the filter must be removed and replaced with a new one),
beyond which Hydro-Flow is absolved of any and all liability for any use of the product. In the event of a defect or non-conformity,
buyer shall promptly notify Hydro-Flow in writing, supplying proof-of-purchase dates, installation dates, and will protect and retain the
products for investigation, or Hydro-Flow is absolved of any and all liability from any use of the product. There are no other warranties,
either of merchantability or fitness, either expressed or implied.