ProGuard BV Filter
For the removal of Microbiological Organisms and Bad Taste and Odor
The ProGuard unit is designed to remove more than 99.999% of bacteria for the water very much like UV technology but without the need for electrical power. ProGuard is a catalyst with activated surfaces. The microorganisms (bacteria, viruses, protozoa, micro-algae, yeast, etc.) that get into direct contact with these surfaces, instantly lose their electrons to the positive active sites causing their entire structure to collapse. No chemicals are used and nothing leaches into the water. The media is a NSF Certified component to NSF/ANSI 42 for material requirement only, also tested by IAPMO to NSF/ANSI 61. The highest grade of catalytic coconut shell carbon block to remove bad taste and odor from the water.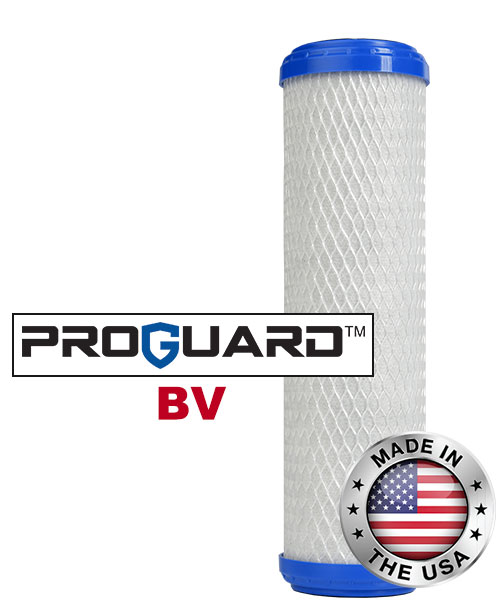 Comprehensive in house continuous quality monitoring and testing
NSF/ANSI Component Certified
Performance claims tested and verified by independent laboratories
Repeated cert verification testing for Prop 65 compliance
Product Line
| | | | | | |
| --- | --- | --- | --- | --- | --- |
| Model Number | Part Number | Dimensions inch | Micron Nominal | Capacity* | Pressure Drop* |
| PG10BV | 304180 | 2.5 x 10 | 1 Mic | 4000 gallons | .5 psid |
*Claims of capacity and performance are based upon independent laboratory test results and/or manufacturers internal test results.
Operating Pressure: 20 psig (1.38 bar) – 125 psig (8.62 bar)
Operating Temperature: 40º F (4º C) – 125º F (52º C)
Fit standard 10" drop in housing



Warranty
Hydro-Flow warrants that the products delivered will be free from defects in workmanship or materials. Further, the warranty provided herein applies, only when used within the products specifications and service life, which is one year from the date of installation or two years from the date of manufacture whichever occurs first, (at which time the filter must be removed and replaced with a new one), beyond which Hydro-Flow is absolved of any and all liability for any use of the product. In the event of a defect or non-conformity, buyer shall promptly notify Hydro-Flow in writing, supplying proof-of-purchase dates, installation dates, and will protect and retain the products for investigation, or Hydro-Flow is absolved of any and all liability from any use of the product. There are no other warranties, either of merchantability or fitness, either expressed or implied.
Performance Analysis of Hydro-Flow Filtration Systems ProGuard™ Carbon Block Filter Against Bacteria Surrogate
(R.terrigena ATCC 33257 and E.coli 11775)
Report No 1911001 | December 02, 2019
The objective of this analysis is to undertake an initial performance analysis (bacteria) of the ProGuard™ Filter designed by the Hydro-flow Filtration Systems engineering team incorporating the Quantum Disinfection (QD) technology into their carbon block point of use cartridge unit.
Four ProGuard™ cartridges were provided to the laboratory for this analysis, three of which were randomly selected and tested for performance. Specific identifiers are ascribed to each prototype for record purposes. Amount of QD media in the filters are unknown to the testing laboratory. The flow through the unit are expected range from 0.5-1 gallons per minute.
Protocol
In order to evaluate the antimicrobial (bacteria) capacity of the Hydro-Flow Filtration ProGuard™, they are connected to a testing rig which consist of a water tank, transmission pump, flow control valves and pressure gauges before and after the filter to monitor the pressure changes.
After setting up the test unit and prior to running the challenge water, the system is flushed with dechlorinated city water (pH adjusted). Dechlorination is by GAC and the Total and free chlorine are measured.
The challenge water was made with reverse osmosis water, temperature and pH were adjusted accordingly and inoculated with a stock solution of R.terrigenna (ATCC 33257) and E.coli (ATCC 11775) on separate occasion as the surrogate bacteria organisms. The average upstream concentration following dilution in the tank is noted to be approximately log 106-7 CFU/ 100ml.
| | |
| --- | --- |
| TABLE 1: CHALLENGE WATER PARAMETERS | |
| Parameter | Value |
| Temperature (ºC) | 25+ / -1 |
| pH | 7.4+ / -0.1 |
| Total Hardness (ppm) | < 25 |
| Alkalinity (ppm) | - |
| Bacteria concentration in challenge water (CFU/100ml) | 106-7 |
| TDS (ppm) | < 0.005 |
| TSS (ppm) | < 0.001 |
| Turbidity (NTU) | < 0.001 |
| Chlorine (Mg/L) | < 0.001 |
The challenge water is then passed through the ProGuard™ simultaneously. Upstream and downstream samples were collected in 50ml sterile bottles without any sterilizer. All samples were directly plated using standard EPA 92158 pour plate method for water analysis. Plated samples were incubated for 24-48 hours at 37ºC.
We quantify the bacteria concentration by total plate count of colony-forming units. The bactericidal activity results are expressed in percent and log reduction.
Results and Discussion
Table 2: RAW TEST DATA
Tested Units

Surrogate Organism

Flow Rate (Gal/Min)

Upstream Concentration (CFU/100ml)

Prototype Downstream Concentration (CFU/100ml)

% Reduction

Log Reduction

PG-10-1
PG-10-2
PG-10-3
R.terrigena
(ATCC 33257)
0.5
0.7
1.0

5.45E+06

1E+00
1E+00
1E+00
99.999982%
99.999982%
99.999982%
6.74
6.74
6.74
PG-10-1
PG-10-2
PG-10-3
E.coli
(ATCC 11775)
0.7
1.0
0.5

3.93E+07

1E+00
1E+00
1E+00
99.999997%
99.999997%
99.999997%
7.59
7.59
7.59
The results shows NO significant difference in the capacities of the the three sample prototypes tested at all specified flow rates
All three of the prototypes tested showed at least 6 log reduction of both organism tested
Conclusion
The prototypes equipped with the Quantum Disinfection media as a proof of concept shows significant bactericidal capacity
This report provides only a snap shot analysis with a very well defined challenge water quality and protocol for the purpose of
performance evaluation